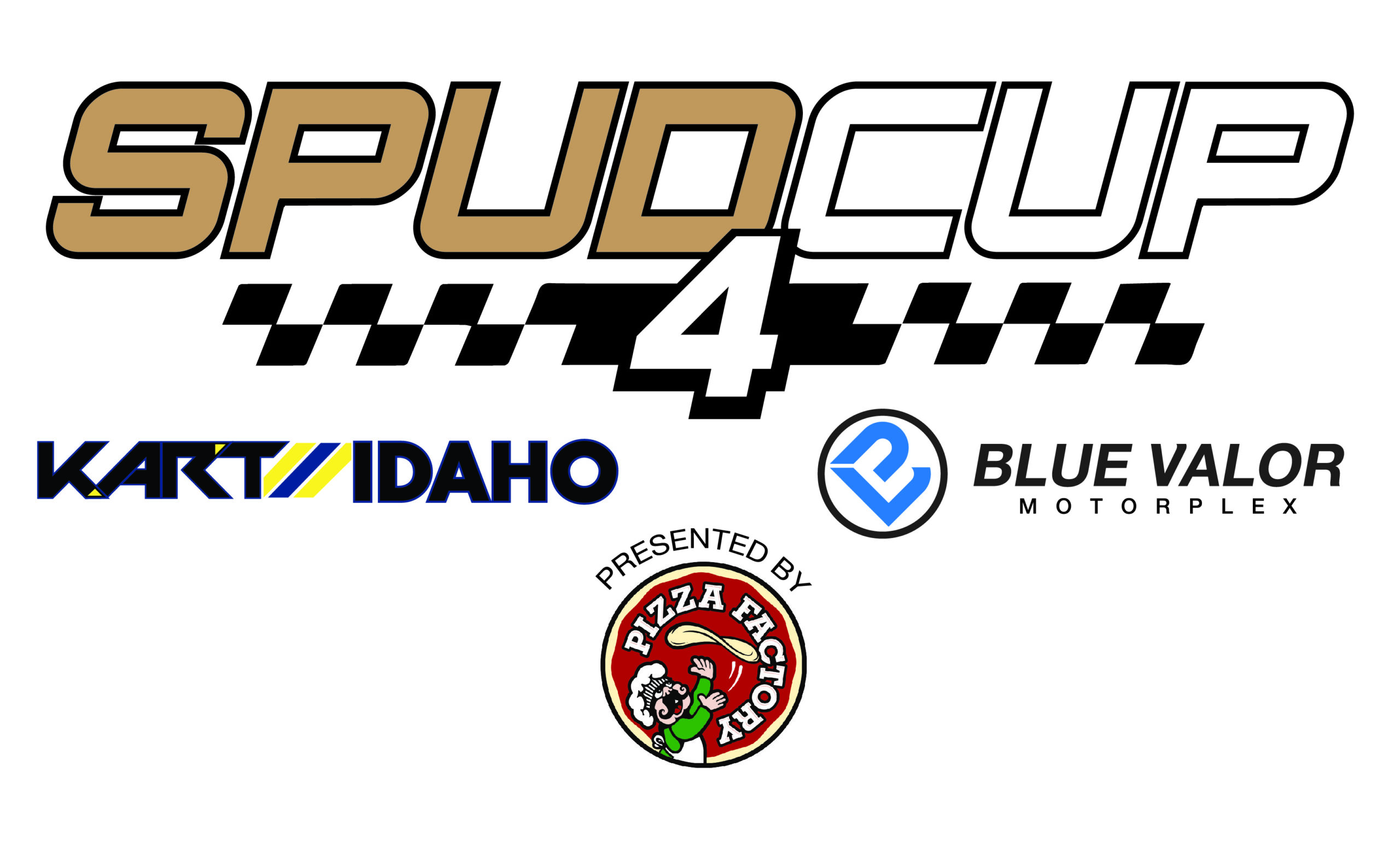 september 6-8, 2024
Kart Idaho's "Can't Miss" race of the year!
SPUD CUP -- Kart Idaho's Premier Race is coming Fall of 2024. Featuring some of the best Senior LO206 drivers in the Northwest, as well as some of karting's rising stars in JR1 and JR2 LO206 and wily veterans in Heavy 206. The headlining class Senior LO206 winner will receive a minimum $1000 to win payout to make this the biggest 4 cycle race in the Treasure Valley! This year SPUD CUP will be located at Motorplex at the Mill!
Location: 510 W. Main St. Emmett, ID 83617
WHEN: September 6-8, 2024
PRIZE:
CLASSES: JUNIOR 1 LO206, JUNIOR 2 LO206, SENIOR LO206, MASTER/HEAVY LO206
RULES: Kart Idaho Rule Set/IKF
TIRES: Evinco Blue 4.5/4.5 - JR1, 4.5/6.0 - All other classes, Tires you qualify on will be tires you race on for the entire weekend
RACE ENTRY:
PIT PASSES:
TRANSPONDERS:
RACE FORMAT: Click Here
PRE - REGISTRATION DEADLINE:
TIRES: We are a dealer for Evinco Tires. Email us at [email protected] if you would like to order some for the race it must be by August 23rd to guarantee them for the race!
STEP 1: REGISTRATION CLOSED
STEP 2: REGISTRATION CLOSED
**ONLY PAY FOR RACE ENTRIES. IF A CARD DOES NOT WORK PLEASE EMAIL US AND WE WILL SEND YOU AN INVOICE VIA EMAIL.
YOU MUST COMPLETE STEP TWO TO COMPLETE REGISTRATION!
JR1 
3 Andrew Herberholz
7 Kowen Petro
?? Daxton Nuxall
08 Rosco Smidt
8 Caleb Canfield
9 Slade Benesch
10 Eleanor Hayes
21 Peyton Moss
22 Elise Herberholz
31 Yutaka Sonoda
32 Parker Moss
61 Trevor Clinton
63 Anthony Scalia Jr.
66 Axel Bowdish
88 Logan Cichoski
100 Enzo Pitale
122 Rylee Smidt
188 Cash Prater
JR2 
3 Madex Moran
7 Aiden Hanson
8 Lauren Freepons
9 Bryce Benton
11 Jonah Good
13 Max Herberholz
16 Ben Corkery
17 Jack Grote
19 Kaleb Keck
23 Clayton Hayes Jr.
28 Jeremy Heath
30 Wyatt Knopp
37 Gavin McCune
41 Nate Spitz
42 Ethan Perry
44 Judah Amarant
45 Colt

Schlotthauer

48 Gavin Cichoski
60 Jack Bowdish
68 Chase Reynolds
77 Zoey Allen
88 Cooper Ryan
96 Reagan Kerr
97 Clayton Ockwell
117 Lewis Dilley
SR
3 Tr3y Arnzen
4 Ian Wood
05 Colby Romero
6 Spencer Dutton
08 Riley Miller
8 Payton Cook
9 Boden Barnwell
13 Lukas Eyth
14 Mason Mitchell
15 Bastian Baker
Blake Feely
16 Madison Hanson
18 Paul Sanada
21 Giovanni Medina
27 Zak Meyer
39 Stephen Eisert
42 Kyle Chatham
44 Jonathon Endrizzi
47 Nathan Heath
50 Daytona Arnzen
56 Giovanni Benson
76 Brooks Anderline
91 Payton Jackson
99 Jazz Manning
312 Myles Pederson
608 David Pergande
612 Hunter Hesseltine
614 Russell Scott
617 Jason Maples
639 Andrew Hitchcock
679 Trenten Helie
689 Zach Franzke
695 William Wallis
Heavy
2 Chris Anspach
05 Keith Land
7 Marcus Eyth
08 Gabe Miller
13 Kevin Peterson
25 Nik Goodfellow
38 Mike

Barrier-Giles

39 Tim Doyon
45 Bryan Green
47 Andy Silver
51 Andy Seesemann
55 Chris Worley
77 Jake Burchette
88 Holden Jung
91 Jason Mcdaniel
99 Chris Shea
188 Josh Prater
608 David Pergande